Meet Laura Funkhouser, LCSW-C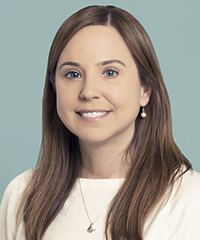 Meet Laura Funkhouser, LCSW-C
Psychotherapist, Cherry Blossom Psychiatry
Laura Funkhouser's Approach
Mrs. Laura Funkhouser is a psychotherapist who specializes in working with children, adolescents, young adults, and their families. Mrs. Funkhouser's therapeutic style includes a warm, patient-centered, and strengths-based perspective. She also takes into consideration the various systems that patients interact with and will coordinate with those systems when needed. She provides integrative therapy, developing an individualized treatment plan, which includes various techniques from modalities like Cognitive Behavioral Therapy (CBT), Dialectical Behavior Therapy (DBT), solution-focused, psychodynamic, family systems work, and ERP (Exposure and Response Prevention).
Laura Funkhouser's Experience
Mrs. Funkhouser has a Master of Social Work (MSW) degree from the University of Maryland at Baltimore - School of Social Work, which included a clinical concentration and specialization in children and families.
Mrs. Funkhouser has over 10 years of experience in the field of human services. Over the last seven years, she has provided direct psychotherapy to children, adolescents, families, and young adults. Additionally, she has also logged over 1,000 hours of teletherapy in the past year. Mrs. Funkhouser has worked in a multitude of settings serving people from various cultural and ethnic backgrounds. She has provided early childhood mental health services to the 0-5 population; individual psychotherapy to school-age children and adolescents; family therapy; group therapy for middle-schoolers; and led an Adolescent Intensive Outpatient (AIOP) group for teens which included a multi-family component. Mrs. Funkhouser is an LGBTQ+ friendly provider.
If you're looking for an exceptional child and adolescent psychiatrist who utilizes various treatment methods and a collaborative approach,
contact us

for a free initial phone conversation to discover if Cherry Blossom Psychiatry is the right fit for your child or teen.